Commercial and Residential High Pressure Cleaning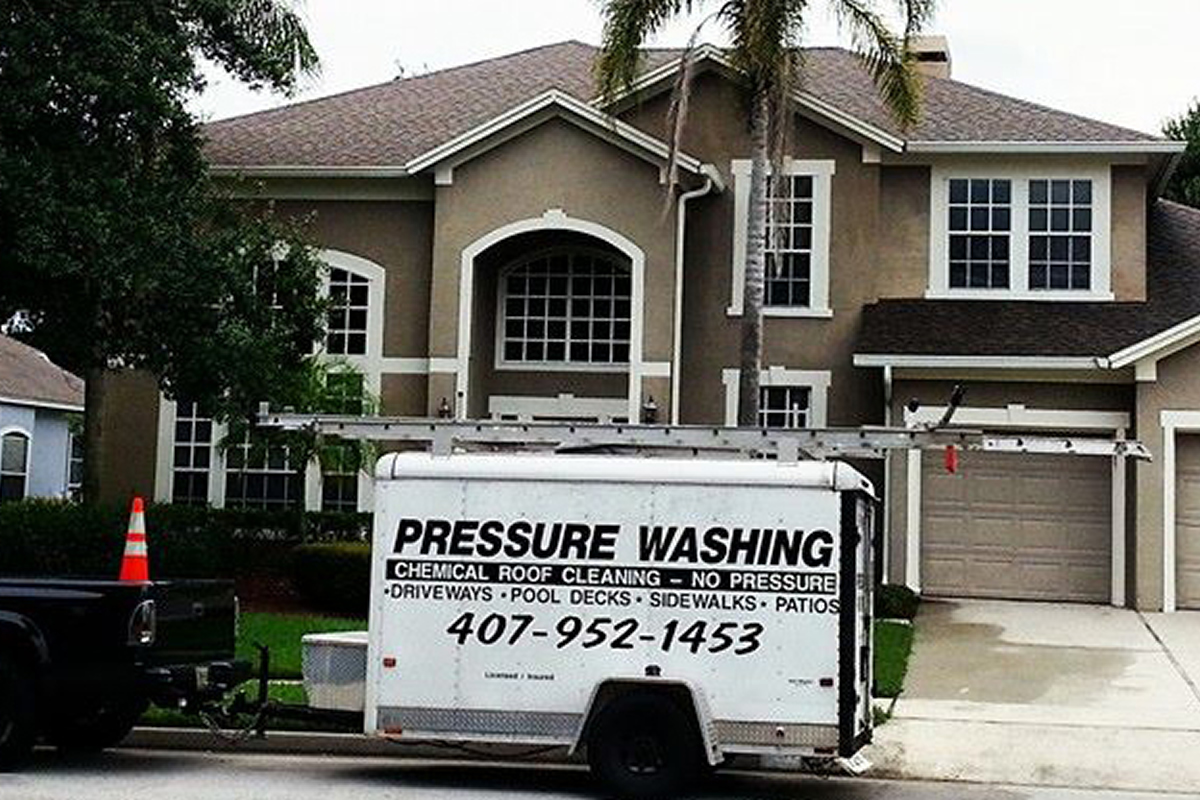 Professional pressure cleaning in Orlando involves using equipment that give unparalleled cleaning results that you cannot achieve on your own. Pressure cleaning experts in Orlando count on the most powerful high pressure equipment. The heat exponentially increases the power of the high-pressure cleaning with less abrasive effect. It is the experience combined with a judicious combination of pressure, heat and cleaning products that achieves the best results without damaging surfaces such as brick joints.
Our Pressure Cleaning Team in Orlando offers efficient and cost-effective service for both small and large projects. Our specialized and highly experienced staff will exceed your expectations. We can restore the appearance of nine to private property or to various types of public structures and facilities.
In the case of residential high pressure washing, our experience with different materials is particularly appreciated. We perform an integral cleaning of all surfaces: bricks, concrete, pavers, aluminum, vinyl. For each surface, we adapt our method and power to have the best results. Our specialized teams all have the expertise to restore the surfaces of your home. Also check the application of sealant on freshly cleaned surfaces to preserve the new look for longer.
Commercial High Pressure Cleaning
Commercial high pressure washing in Orlando is used by several school boards and municipalities that have graffiti removal and structural cleaning needs that are done by our high-pressure cleaning experts. Our services are appreciated because we deliver the merchandise at competitive price. We work efficiently, respecting the environment and always in a safe way for the public during any type of project located in passing areas.
Apart from these questions you should ask yourself, it is also important to learn about the company you are interested in.
Maintenance and cleaning of any place require a lot of work and effort. It is to relieve the problems that we address the cleaning companies. But choosing the latter can be difficult. The question arises as to which company to choose for regular maintenance of the premises and to guarantee the security of your property. All kinds of questions are asked without really being answered.
Residential Pressure Washing
Residential pressure washing can restore a multitude of surfaces, brick walls, vinyl, aluminum, soffits, plain pavers, cement balconies, etc. We can also clean the high-pressure ceramic seals with an instrument that draws water without causing any damage during cleaning. Call us for more information.
All hard surfaces such as stone, pavers and cement can be sealed with an excellent water repellent protector that protects against oil stains on plain paving stones as well as on other surfaces. We can also apply an anti-graffiti sealer on the walls
Residential Washing and Restoration
Pressure cleaning in Orlando is an unsurpassed tool for restoring a host of painted or dyed wood or cement surfaces. No other method can restore with as much ease as high pressure washing. Pressure Washers Experts uses pressure wash to remove old paint or dyed paint on walls, sidewalks, concrete pools, etc.
After pressure washing, application of water repellent sealant enhances the appearance of surfaces, protects against stains and graffiti, and greatly facilitates surface maintenance.
Our Pressure cleaning service in Orlando offers multiple cleaning solutions such as the following:
Industrial pressure washing (Machinery, vehicle, equipment, hangar, factories)

In the industrial field, fixed assets represent a good value and are also the symbol of the economic health and prestige that your company projects with your staff as well as customers and business partners. The impact of high pressure washing on a large brick building is particularly striking. The difference before / after is always impressive. Whether it is to enhance the value of a building before the sale or to improve the image of your business, we are confident that you will be satisfied with our service. For more information, call one of our experts. We would be pleased to answer any questions you may have.

Pressure washing for hygiene

In an industrial environment, depending on your activity, your equipment may need to be washed at regular pressure to fight against bacteria. This is the case in food processing plants, waste processing and in cattle breeding. Pressure washing in Orlando helps maintain good hygiene and sanitation in food processing areas where a buildup of materials can cause a disease epidemic.

Pavement pressure washers (Cleaning of terrace, sidewalk, pools, tower)

We perform concrete pavement cleaning and high pressure ceramic floors on the outside and inside of houses, restaurants, shops, entrance of buildings, etc. Our high-pressure cleaning equipment makes it possible to restore the joints and the ceramics better than any other method. We apply a degreaser which we leave to act 10 minutes before washing with a pressure of 3500 psi and 250 degrees F. Our instrument aspires simultaneously the dirty water into our factory truck. The work is done without splashing in your living room, kitchen or restaurant. Cleaning of concrete pavers, pressure washing of paving stones, pavements and sidewalks.

Brick pressure wash

Warm pressure washing cleans facades and brick walls with unmatched efficiency. Pressure Washing Experts uses heat for a powerful cleaning of the brick without excessive pressure to prevent the erosion of the brick joints. To remove graffiti or simply to restore the brick, some methods that damage the joints must be avoided.

Our years of experience in pressure cleaning in Orlando have enabled us to develop a know-how that will be valuable to you! A good sealant on old brick walls will ensure that future graffiti cleanings will be easier. Another way to preserve your brick joints in the long term that we highly suggest.

Hot pressing and de-icing

During the winter the frost causes various problems for which we are accustomed to intervening for de-icing: frozen pipe, icy vehicle, machinery, construction site and tool completely frozen. In all kinds of situations, our de-icing interventions allow our customers to save time and money.
Application of sealant and Pressure washing on plain paving
Putting sealant on stone, paving stone, brick and concrete protects surfaces from graffiti, oil stains and the like. The sealant enhances the beauty of surfaces and facilitates maintenance. The best results will be obtained by placing the appropriate sealant on the surface to be protected. Sealant applied immediately after pressure washing of a surface will be more durable and efficient.
Depending on the case, our technicians will recommend either one or two layers of protection. The sealant also offers effective protection against graffiti which becomes the best solution in the areas most affected by this form of vandalism.
Cleaning solutions for all your projects
Our pressure washing crew also has experience in cleaning indoor parking lots, garbage chutes, mechanics under elevators and several other specialties.
We offer an eco-responsible solution that leaves no residue behind and adapts to a host of needs!
Contact us today to take advantage of our pressure cleaning services in Orlando. Call us today on (407) 952 1453 or email us on connorgrahamservices@gmail.com for more information on how we may best assist you.